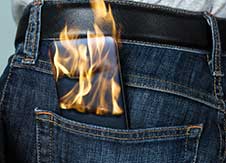 The deadline for most dangerous product (product liability) claims in Hawaii is two (2) years from the date of the injury caused by the product. There are some exceptions since some dangerous products may cause injuries which do not appear for years after exposure to the product and other dangerous products may cause injuries which are not connected to the product by medical science for years after the exposure. Generally the date of the injury is not deemed to have occurred until (1) exposure to the product, (2) injury from the product and (3) reason to know of the connection between the exposure and the injury- have all occurred. In some cases where a manufacturer has deliberately misled the public as to the safety of its product, the deadline for filing the claim may be longer still.
Claim Information
Generally a product liability claim arises where a defective product has caused injury. A product is defective if it poses an unreasonable risk of harm. A product may be defective in design or in manufacture. The definition of a product is pretty broad, and it can even include components of a building such as an escalator. Leong v. Sears Roebuck and Co. Hawaii Supreme Court Case No. 20865 (December 14, 1998). The absence of a warning of danger may be a defect and a warning which is deficient to provide a consumer with basic safety information may also be a defect. A victim does not need to be the owner or purchaser of the product in order to make a claim. However, if a victim is found to have been negligent in using a defective product (ie. to have failed to use ordinary care), it may reduce or completely defeat any recovery available under a products liability claim.
Examples of Product Liability Claims
Some examples of dangerous products which have been led to successful products liability claims include: dangerous appliances which injure users and/or bystanders, appliances and other electrical equipment which ignite or cause nearby materials to catch on fire, products like aerosol cans which explode or erupt, asbestos, medical devices which fail or which otherwise cause serious injury, medications with serious undisclosed side effects, vehicles which are unsafe to operate, equipment which comes apart when used, products which cause injury due to radiation exposure, equipment without safety shields, childrens' toys which endanger the child, furniture which comes apart or collapses during use, highly flammable fabrics in clothing, products which violate OSHA or other state or federal regulations, products which fail to comply with UL or CPSC standards and products without warnings of hidden dangers.