Accidents due to Building Code Violations Balcony Collapses Defective Railings in Hawaii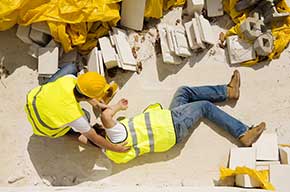 Deadlines for filing a Defective Railing a Balcony Collapse a Fatal Fall claim in Hawaii
A claim arising out of a defective railing a balcony collapse or other catastrophic fall accident (typically arising out of a building code violation or another dangerous condition on property) is generally subject to a two year statute of limitations in Hawaii. It should be noted, however, that there may be exceptions to this rule  for example, claims against the professionals involved may have a shorter fuse. You must file your claims in court prior to the expiration of such deadlines, or your claims may be lost regardless of their merit. To be wise it is recommended that you contact an attorney right away after an accident giving rise to injuries occurs. Please do not hesitate to :
Contact Accident Lawyer Hawaii now for a free evaluation of your case.
In Hawaii the owner or occupant of real property is generally responsible for any condition which creates an unreasonable risk

of harm to people who may come onto the property. Architects, contractors, subcontractors and others who put up poorly designed or poorly constructed structures may also (in some cases) be liable for injuries caused by the defective structures. Depending upon the situation it may be sufficient if the landowner simply warns about the danger. The owner or occupant is responsible for all conditions known about and which should have been known about. If you wish to find out more about Premises Liability law in the State of Hawaii, please review the Brief Overview set forth below.
Some examples of dangerous conditions for which liability has been imposed are:
Balcony collapses and/or defective railings
Building code violations
Unsafe design and/or construction of buildings
Improperly maintained equipment, furniture or furnishings
Inadequate lighting
Dangerous or unmarked holes, ditches or culverts
Defects or obstructions in walking surfaces
Brief overview of building code violation, balcony collapse and defective railing cases in Hawaii
II. The Bases of Premises Liability Law in Hawaii
A. The Premises Must Have an Unreasonable Risk of Harm
The general rule with respect to the liability of owners and occupiers of land is that " [a] possessor of land, who knows or should have known of an unreasonable risk of harm posed to persons using the land, by a condition on the land, owes a duty to persons using the land to take reasonable steps to eliminate the unreasonable risk, or warn the users against it." Corbett, 70 Haw. at 415, 772 P.2d at 693 (emphasis added); see also Knodle v. Waikiki Gateway Hotel, Inc., 69 Haw. 376, 386, 742 P.2d 377, 384 (1987), Bidar v. AMFAC, Inc., 66 Haw. 547 at 559 (1983).
B. The Possessor of Land Must Have Failed to Take Reasonable Steps to Eliminate the Unreasonable Risk of Harm
The case of Richardson v. Sports Shinko Waikiki Corp., 76 Haw. 494, 880 P.2d 169 (1994), demonstrates that the Hawaii Supreme Court does not require all unreasonable risks of harm to be completely eliminated in order for a possessor of land to escape liability for an accident occurring on its premises. In that case, the Hawaii Supreme Court affirmed a defense verdict in favor of a hotel and against the guest who injured herself on a staple embedded in a meeting room rug. The Court found that because reasonable steps were taken to eliminate the unreasonable risk of harm, there was not even a duty to warn of the danger which remained. After reviewing the record in the light most favorable to the hotel (because it was the plaintiffs' appeal), the court stated that the hotel's efforts at vacuuming, regular cleaning, detection and monitoring complaints (or the lack thereof) were sufficient to constitute "reasonable steps" to eliminate the unreasonable risk of harm.
C. Warnings of the Condition by the Possessor of Land Must Be Absent
i. Warnings of the Condition Must Be Absent
As set forth above, in Corbett, supra, the Hawaii Supreme Court found that a possessor of land can escape liability if it takes steps to warn users of the land against an unreasonable risk of harm found on its property. Typically, this involves the posting of a sign or the installation of a barrier to warn and protect against the danger.
D. The Possessor of Land must have Actual or Constructive Notice of the Condition
In the case of Harris v. State, 1 Haw. App. 554, 623 P.2d 446 (1981), the Hawaii Supreme Court stated that the duty to correct or warn of a condition which poses an unreasonable risk of harm does not arise until the possessor of land has notice of the condition. Hence, under Hawaii law, in order to support recovery in an action where an owner or occupant is charged with negligence, it must be shown that the owner or occupant knows or should have known of the hazard or defect which caused the injury. Liability cannot be imposed where a landlord or an owner or occupant of premises has not been put on actual or constructive notice of the unsafe condition or defect that causes plaintiff injury. See also, Kellett v. City & County of Honolulu, 35 Haw. 447 (1940).
III. Summary
Negligence law in Hawaii does not require an owner or occupant of land to be an insurer against all accidents that occur on the premises. However, liability may be imposed upon a possessor of land for certain conditions which present an unreasonable risk of harm to ordinarily careful users of the premises. Once it has been shown that the Defendant knew or in the exercise of reasonable care should have known of the condition and that the Defendant did not take reasonable steps to eliminate the risk or to warn against it, the possessor of land will then be found responsible to one who is injured by the condition.

Resources and cases involving Building Code Violations Balcony Collapses and Defective Railing accidents in Hawaii
OSHA's compilation of work related accidents
OSHA's compilation of work related deaths and catastrophes occurring in the U.S from mid October 2013 to mid September 2014 can be found at the link below
WEMPLE v. DAHMAN, JANUARY 30, 2004 The Hawaii Supreme Court holds that the test for determining a defendant's liability for dangerous conditions upon property is the degree of control exercised by the defendant over the property and not merely the ownership position of the same and that the issue of control or amount of control over the premises is ordinarily a question of fact that should be left to the jury.
LEWIS v. STATE OF HAWAII, February 17, 2006 In this unpublished opinion the Hawaii Supreme Court affirms that the discretionary function exception for decisions of government agencies (such as the State of Hawaii) does not apply to prevent liability to a jogger who fell 14′ into an unfenced drainage culvert while jogging along a road at night. (The culvert was fenced on one side of the road, but not on the other.)