Hiring a Brain Injury Lawyer for a Coma, TBI or Head Trauma accident in Hawai'i
Brain Injury Attorney – Honolulu, Hawaii
If you or a loved one has been seriously injured in an accident resulting in Coma, TBI or Head Trauma which accident occurred in or near the State of Hawaii, you should seriously consider getting the counsel and assistance of an experienced brain injury attorney in Hawaii. Here at Accident Lawyer Hawaii, we have been representing the victims of serious Brain Injuries resulting in Coma, TBI or Head Trauma for over 30 years. For some considerations in finding a personal injury lawyer here in Hawaii to assist you, you may wish to examine:
Considerations in finding the right accident lawyer in Hawaii
Coma, TBI and Head Trauma Accidents in Hawaii
Deadlines to file Brain Injury claims in Hawaii
The deadline for filing a claim in court arising out of an accident resulting in Coma, TBI and Head Trauma in Hawaii can be difficult to determine. Similar situations may have very different deadlines for filing. Most claims generally follow Hawaii's two (2) year statute of limitations. However, there are exceptions. In short it is best to promptly investigate and assert any claim which you think you may have by obtaining competent, experienced legal assistance promptly after a claim arises. One of the first things that will need to be addressed is determining the filing deadlines which may apply.
Additional Information about Coma, TBI, Head Trauma and other Brain Injury claims in Hawaii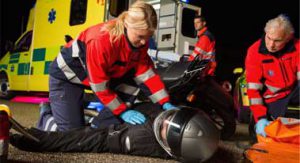 Investigation of a Coma, TBI, Head Trauma accident can be very important to the outcome of the personal injury claims. A timely investigation and documentation of the available evidence related to the case is often critical. Photos and videos of relevant conditions, the scene, the damages to any vehicles or equipment involved, the activities which were being carried on in the area of the accident, the damages to the scene where the injuries and damages were sustained, and the injuries themselves will often prove invaluable in proving up an accident claim. Whether the claim is made pre-suit and the presentation is being made to a claims adjuster and an insurance company, or the case has been filed and the proof must be made to a judge or a jury – the availability and quality of the evidence collected will often be key. Photographic or video documentation of the cause of the accident, the scene, and the injuries should all be done as soon as possible. Here at Accident Lawyer Hawaii we are happy to provide a considerable amount of this type of assistance for cases on which we have been retained.
Obviously Severe and Moderate Traumatic Brain Injuries (TBI) cases can have a huge impact on the life of the injured. But it turns out that Mild TBI can often cause major impacts as well. The fact that a TBI is classified as mild in some cases may not match the severe impact that the injuries have on the injured person's ongoing activities, emotional stability, mental function, relationships and life. Such injuries should be taken seriously from the inception and the best available medical treatment should be pursued promptly (often including cognitive therapy and rehabilitation).
Generally, cases involving brain injuries and Coma, TBI or Head Trauma may include a number of different legal doctrines. Such injuries can arise in motor vehicle accidents, maritime, construction accidents, building code violations, recreational accidents and other types of accidents. They can arise from a variety of causes, such as: negligence, product liability, premises liability, unseaworthiness, strict liability, and other causes. Remedies may be available in Federal court or in state court or in both. Selecting the correct forum in which to pursue such claims can be very important.
Our Accident Lawyer Hawaii office handles Coma, TBI and Head Trauma accidents and other brain injury cases on a regular basis. Please feel free to contact us for a free consultation.
TYPES OF PROCEEDINGS WE HANDLE
Civil litigation - Court cases - Jury trials and Bench trials
Binding Arbitration
Alternative Dispute Resolution (Mediation & Non-binding Arbitration)